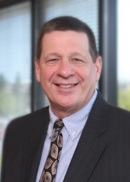 Tag Wilson, a dedicated CAMICO claims team member, passed away unexpectedly in February 2020. Tag had been with CAMICO since 2001 and was a passionate advocate on behalf of CPAs. With more than 35 years of claims handling experience, he managed some of CAMICO's most complex and significant exposure cases and took the lead in managing panel counsel relationships on behalf of CAMICO.
Tag is missed by his colleagues, who remember him as a constantly positive presence in our lives. When people had a question, Tag was always happy to help and make sure that his answers were clear and understood. He made people feel that they were receiving more than what they expected. He epitomized the best in customer service and personified what is known as "The CAMICO Experience," always giving more than what was asked of him. He was kind and knowledgeable.
As a claims executive, he was at the top of the class. A recent example involved a claim Tag handled along with defense counsel in Illinois on behalf of a CAMICO policyholder. The claimant was arguing that the CPA had fiduciary duties as an auditor, and the case ultimately went before the Illinois Court of Appeal. Until this case, Illinois had no ruling on auditors as fiduciaries. When the appellate court affirmed the dismissal of the claim, the decision set a precedent in Illinois for auditors, who do not have duties as fiduciaries, in large part due to independence requirements. The decision will serve as authority in such cases well into the future.
This was the kind of result that always made Tag smile, and we are sure he would want us to remember him that way.