More than 900 CAMICO policyholders responded to a survey recently regarding the COVID-19 pandemic impacts on CPA firms. CAMICO conducted the survey to learn more about how policyholders are being affected by the crisis and what they view as their top challenges. The survey also included comment boxes for participants to express their feedback, priorities and perspectives to CAMICO.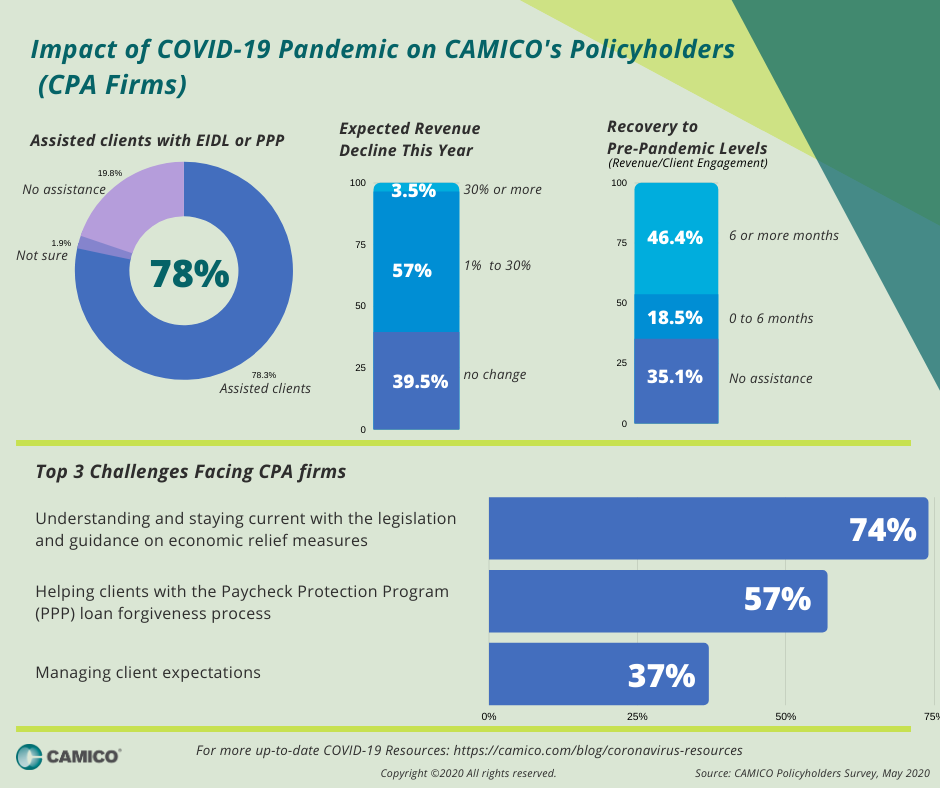 Highlights of the survey include:
Almost 80% of respondents had assisted their clients with EIDL or PPP loan applications.
Almost 40% of respondents expected no revenue change, while 57% expect a revenue decline between 1% and 30%.
35% responded that their firm revenue and client engagements were not significantly impacted, while 46% thought the recovery will take longer than 6 months.
The top 3 pandemic-related CAMICO resources most utilized were (in order):
1. eAlerts
2. FAQs
3. Pandemic-Related Engagement Letters
The top 3 challenges facing firms related to the pandemic were (in order):
1. Understanding and staying current with the legislation and guidance on economic relief measures
2. Helping clients with the Paycheck Protection Program (PPP) loan forgiveness process
3. Managing client expectations
Over 95% of respondents indicated they are likely to recommend CAMICO.
The survey elicited 266 separate comments posted by survey respondents expressing their feedback. CAMICO has read and appreciates all of the responses and comments provided by participants, and we are acting on the suggestions and information to further enhance our services, resources and products to meet policyholders' needs.
CAMICO always encourages our policyholders to provide comments, concerns, ideas and questions by emailing us at inquiry@camico.com
or calling 800.652.1772.