CAMICO President and CEO Ric Rosario, CPA, was recently named one of Accounting Today's "Top 100 Most Influential People in Accounting: The thought leaders and change-makers who are shaping the profession."
Here is the entry for Rosario in the Top 100 list: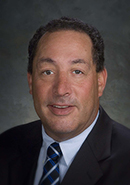 Ric Rosario
President and CEO, CAMICO
As chief of one of the major liability insurers for the profession, Rosario is all about getting ahead of trouble — helping accountants identify risks and manage them through proactive solutions long before they lead to claims.
Born: Bitburg, Germany, 1958
College: Saint Mary's College
First full-time job: Auditor, John F. Forbes & Co.
Favorite recent binge watch: "CSI"
Also visit CAMICO's social media page
to see the announcement and many other valuable advisory and news items from CAMICO.