Jeanie Price, AAAPM, a partner of DeLeon & Stang Certified Public Accountants and Advisors, received the prestigious ACE Administrator Award from the CPA Firm Management Association (CPAFMA) at the association's annual conference in Baltimore on June 29.
"It is a huge honor to receive this award," stated Price. "I am grateful for the support that my partners at DeLeon & Stang have given me—both throughout my career and in nominating me." She resides in Mount Airy, Maryland, with her husband, Bob, who was also in attendance at the ceremony. One of her fellow partners at DeLeon & Stang, Brad Hoffman, CPA, was also present.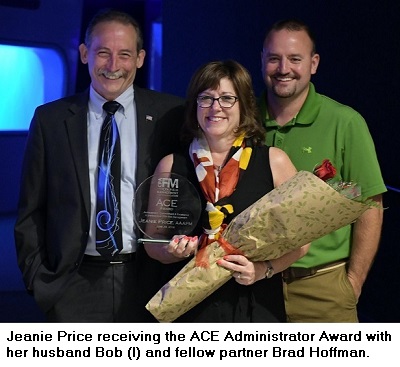 "We are tremendously proud of Jeanie," said Rich Stang, CPA, ABV, PFS, founding partner of DeLeon & Stang. "To me, it's no surprise that this award would be given to Jeanie. Since her first day, she has taken the lead on managing the day-to-day needs of the firm, as well as working towards our long-term goals. Jeanie forces us to think forward and is the driving force of innovation at the firm. Her work allows the firm to be run smoothly."
The ACE Administrator Award is presented annually to one senior-level administrator for achievement, commitment, and excellence in firm management. CPAFMA determines winners from nominated members, based on the individual's leadership and strategic importance to their firm's growth, among other factors.
Price is an Accredited Administrator in Accounting Practice Management (AAAPM)™. Her responsibilities for managing DeLeon & Stang encompass staff supervision and training, strategic planning, human resources, quality control, marketing strategy, information technology, and the automation and management of the firm's finances and internal accounting.
A CAMICO policyholder since 2004, DeLeon & Stang has worked with Daniel W. Hudson, CPCU, of Chesapeake Professional Liability Brokers, Inc., as its professional liability insurance broker for many years. Price said, "We look to Dan for guidance on how to limit our exposure at a reasonable cost. He takes the time to understand our firm and our growth, and he provides help and guidance throughout the application process, as well as ongoing education to the folks at our firm. He also assists other firm administrators by offering educational opportunities through the CPAFMA. I highly recommend Dan and CPL Brokers to meet your professional liability needs."
Hudson has represented CAMICO since 2000 and is a top agent for the company. "CAMICO delivers, not only on the coverage aspect but on practice management and loss prevention solutions for our clients," he said. "The company is the go-to carrier in the market."
For more information on the award or to learn about CPAFMA, visit:
www.cpafma.org.