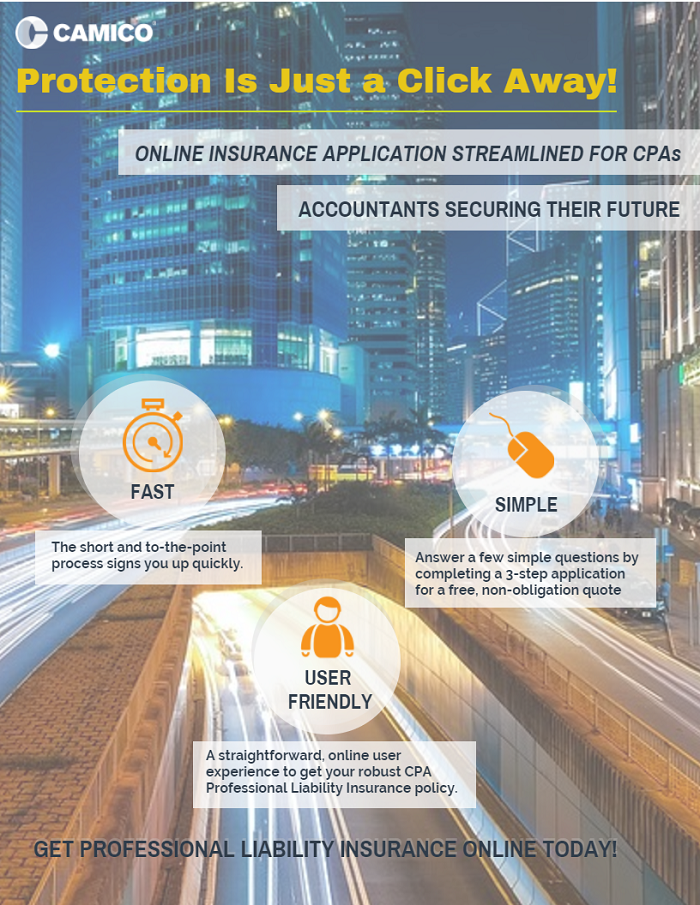 A new online insurance application from CAMICO has been streamlined for smaller CPA (accounting) firms. Accountants (CPAs) can secure their future with an easy-to-sign-up professional liability insurance policy.
CAMICO's team listened to our prospects and policyholders and addressed the technology needs for a quicker and easier digital way to get insurance coverage. The application quickly provides relevant options and the ability to pay online, so you, the accountant, can purchase the insurance you need. If you have any questions, you can request help from one of CAMICO's representatives.
FAST
The short and to-the-point process signs you up quickly, taking approximately 3 to 4 minutes to fill out the application and pay for insurance.
SIMPLE
Answer a few simple questions by completing a 3-step application for a free, non-obligation quote. The application is short and asks the most important questions to provide the policy options that best fit your firm.
USER FRIENDLY
A straightforward user experience will provide you with a robust CPA Professional Liability Insurance policy. The application is interactive and adapts to your answers as you fill in relevant information.
Most smaller firms will qualify to complete the new application. Options are available to firms not qualifying, including assistance from a CAMICO representative. The application is currently available in 42 states and the District of Columbia, and it will be available in all 45 states where CAMICO does business as state approvals are received.
The application is located on the CAMICO public website at www.camico.com by clicking Get A Quote!