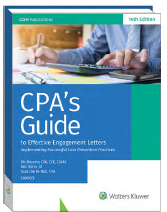 CAMICO is pleased to announce the newest edition of CPA's Guide to Effective Engagement Letters.
The 14th Edition has been updated throughout, including new language for consideration in engagements related to financial statements, tax, and valuation work to address the engagement-specific implications of the COVID-19 pandemic. This new edition also includes revised record retention language and Client Portal Agreement to clarify the role of the CPA firm as it relates to providing "Hosting Services" as defined by the ethics interpretation in the AICPA's Code of Professional Conduct (ET §1.295.143).
New letters have been added, including for: (a) Agreed-Upon Procedures — SSAE-19 Compliant; (b) Preparation of Trust Accounting and Tax; (c) Tax Opinion Engagement; and (d) Client Letter — COVID-19 Pandemic Implications to Firm Services.
Whether it's a new engagement, repeat engagement, or, especially, a changed engagement, you need to know what to say and how to say it correctly. Using the sample letters and advice in this user-friendly guide, you'll improve client/CPA communication, document your engagements more effectively, and protect yourself from litigation. A well-constructed engagement letter also provides an opportunity to explore other potential business with your client.
The publisher is offering a 25% discount off of the price with orders using a "Promo Code" that can be found on the CAMICO Members-Only Site (www.camico.com
) in the Engagement Letter Resource Center (scroll down the page and look in the right column).