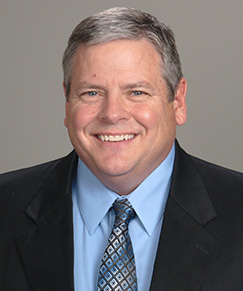 Tom Warner, CAMICO's National Sales Manager – Agency, died unexpectedly on Dec. 9, 2020. Tom had been with CAMICO since 2016, was responsible for CAMICO's agency sales channel and agent relationships, and was a key member of CAMICO's sales and marketing-communications team. He is deeply missed by his colleagues, who remember him as a generous team-player with a great sense of humor and creativity.
Tom was always learning and knew how to reinvent himself. He learned how to produce videos he named "Tuesday's Tips," used internally at CAMICO to help staff members deal with issues stemming from the COVID-19 pandemic, such as working remotely and maintaining a positive attitude during challenging times. Tom began producing "Tuesday's Tips" shortly after the stay-at-home orders were issued in March. The videos featured and recognized the contributions of other CAMICO staff members and boosted morale as the pandemic canceled many plans people had for 2020. Tuesday's Tips were lighthearted and uplifting, and they soon became a major highlight in the work week, punctuated with a cheer by the participants at the end of each video: "Go CAMICO!"
Tom's agency colleagues also miss his positive presence. Many of his fellow agents have expressed their deep sense of loss in the wake of Tom's sudden passing, describing him as a thoughtful, resourceful and genuine individual who would do anything for others while putting them at ease with his contagious sense of humor and smile.
Tom loved coaching his four kids over the years in baseball, softball, basketball and soccer. He served as president and longtime board member of the Hamilton Heights Amateur Sports Association and served his hometown of Cicero, Indiana, on its economic development committee and its zoning appeals board. A member of the Cicero Christian Church, he was in the church's eldership apprentice program.
A good example of Tom's approach to life was when he signed off on one of his Tuesday's Tips videos with the words, "Make genuine passion and concern part of your culture, because you never know when you'll meet someone who needs your help. Thanks for listening, and, of course, Go CAMICO!" It was always a pleasure, honor and inspiration to work with Tom.