CAMICO was recently honored by the Washington Society of Certified Public Accountants (WSCPA) as the society's 2014-2015 Business of the Year.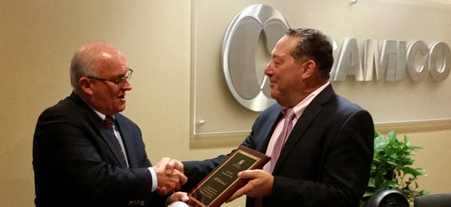 Rich Jones, CPA, CGMA, president and CEO of the WSCPA, presented the award to CAMICO at the company's Annual Meeting in San Mateo, Calif., on June 9, 2015. The WSCPA has been a sponsor of the CAMICO program since 1997, and CAMICO has actively participated in WSCPA conferences, events, meetings and publications by providing speakers, articles, updates and alerts on risk management topics of concern to CPAs.
In presenting the award, Jones said, "This recognizes the noteworthy support that CAMICO has provided over the past 18 years to the WSCPA and its members. We have tremendous respect for the company and its leaders, and we are proud to be partners with CAMICO."
Ric Rosario, CPA, CFE, CGMA, CAMICO president and CEO, accepted the award on behalf of the company, commenting, "It has been an honor to be partnering with the Washington Society over the years, and we look forward to our productive relationship continuing with the WSCPA for many more years to come."
The CAMICO program is also sponsored by state CPA societies and associations in Arizona, California, Colorado, Greater Washington D.C., Indiana, Kansas, Mississippi, Missouri, Nevada, New Jersey, New York, Tennessee, Utah and Virginia.